Scott and I attended the Ultimate Bridal Event in Darling Harbour last weekend, and we had a blast 😊. Tahlula's Event Hire styled our booth, and did such a beautiful job that we had people asking us to move out of the way to take photos of it for their own wedding inspo! The picture here is from the expo, and I'll be writing a blog post about Tahlula's Event Hire soon.
The event was a huge success, with fashion shows of wedding gowns, bridesmaids' dresses, groom's and groomsmen suits, and wedding lingerie for both men and women.
The aisles were wide, so people weren't crowded in, and there was plenty of room to have a chat with vendors. There was such a huge variety of vendors and services offered, I'm sure many couples were able to plan their entire wedding almost on the spot! We loved that the organisers of the Ultimate Bridal Event came around to see how everything was going, and showed a genuine interest in who we were as people, not just as a business.
Scott and I would really love to thank everyone who stopped by to say hi to us, we loved getting to know you all, and hope we get to know you even better in the future.
While speaking with brides and grooms and their Bride Tribe, a lot of them asked how much extra it cost to get a customised ceremony and to have a rehearsal. We were a bit taken aback by the question, to be honest. It had never crossed our minds that these things were separate to the service we offer our couples.
So we just wanted to let everyone know that we have no hidden or 'extra' costs. Our pricing is the same for everyone, and it and our inclusions can be found on this page on our website.
When you book Scott as your celebrant, your ceremony will always be customised by yours truly, with input from you and Scott. We do this by getting to know you both, how you met, what your first date was like, even the types of movies, TV shows and music that you like. We meet with you a few times, and we're always available by email or phone if you have any questions or comments or just feel like a chat. In addition to those meetings Scott is legally required to provide you with a rehearsal, although he'd offer it regardless 😊. We usually organise this for a week night, and it doesn't have to be done at your venue, as you may not be able to get everyone there at the same time, or the venue may charge extra to hold rehearsals there. The rehearsal is all about getting the timing right for your bridal party walking down the aisle to the song or songs you've chosen, so there's no stress on the day, and also to allow you to practice using a microphone. It's also an opportunity for a catchup with Scott to go through how the day will run, to help soothe any last-minute pre-wedding jitters.
We take care of all the paperwork required for you to become legally married. Once you've decided to book Scott as your celebrant we fill in your Notice of Intended Marriage (NOIM) with you. Scott then lodges the NOIM with Births, Deaths and Marriages after the ceremony, along with scans of your ID and the Declaration of No Legal Impediment and the Official Marriage Certificate, which you sign on the day of your wedding. Now, I know that sounds like a lot, but you don't have to think about the paperwork side of things at all. I prefill it in so all you have to do on the day you marry the love of your life is sign three documents. After the ceremony we get Births, Deaths and Marriages to send your Official Marriage Certificate to us first so we can double check for spelling mistakes (because humans are human), so you don't have to deal with getting it fixed if there are any mistakes.
In addition to that, we offer help writing your wedding vows, if you want help. We have a questionnaire that you each fill in, and then send to me. I then use your words to write your vows. You've still written them, I've just taken the pressure off wondering if you've done enough, or too little, or gone over the top 😉. I also then print your wedding vows on nice cards and bring them to the ceremony, so you don't have to worry about remembering them, and they also become a beautiful little keepsake.
There's also all of the other little inclusions that are hard to put a price on, so we don't. Once you've booked Scott as your celebrant, you have us both on your team, for the entire planning process of your wedding. Having difficulty getting your point of view across to a venue or a vendor? Scott is more than happy to step in on your behalf. Decided to do your own vows without help, but still want someone else's opinion? You can just email it through to me for some feedback.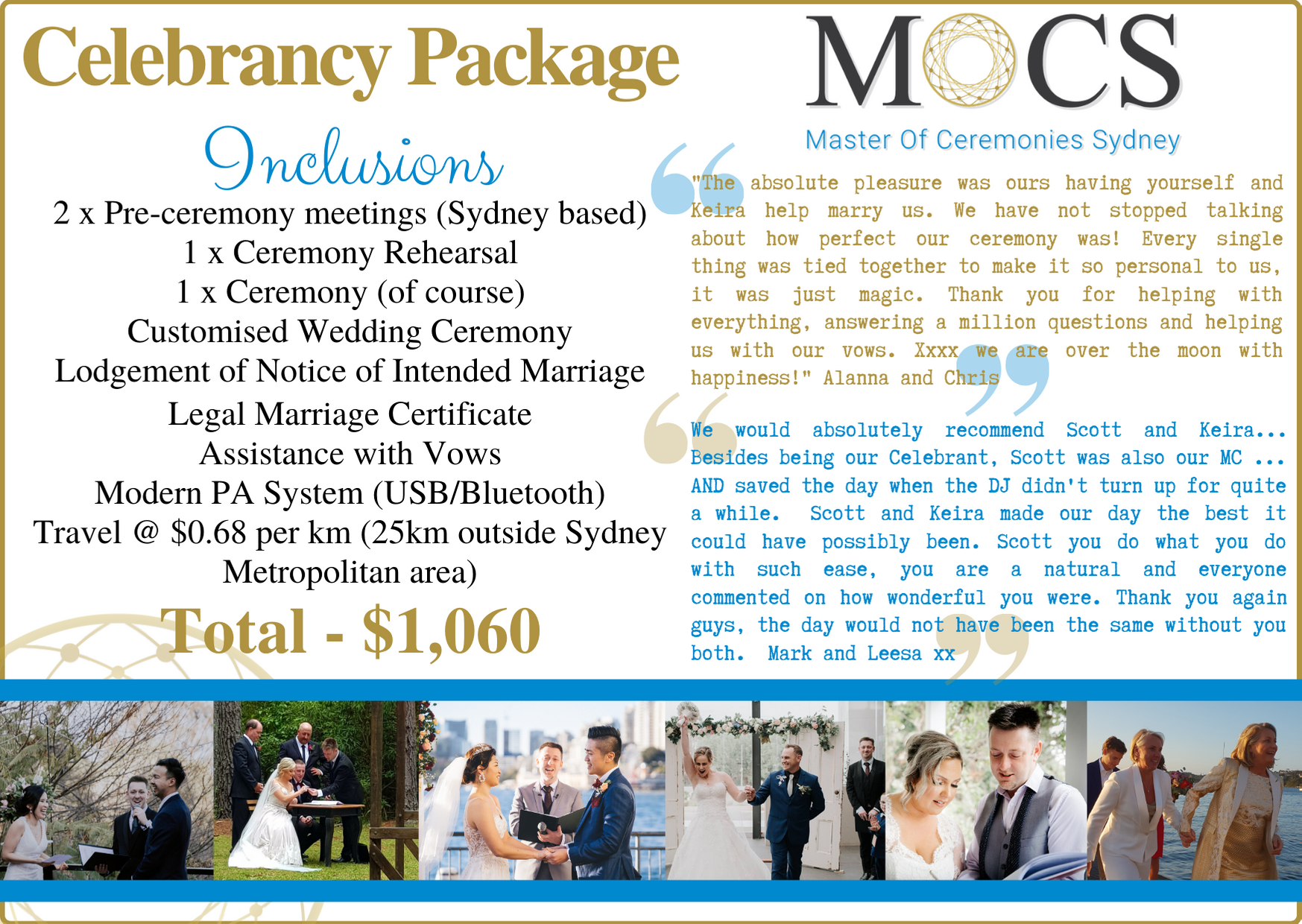 Sorry for the overload of information folks, I'll post about the MC inclusions next. I'd like to leave you with this playlist of possible Walking Down the Aisle songs on Spotify. It's a list that Scott and I put together, and it's by no means exhaustive, but it's a nice starting point 😊.
Remember if you have any questions at all, don't hesitate to contact us via Facebook, Instagram or email info@masterofceremoniessydney.com, or even give Scott a call on 0412 996 354, or me on 0402 001 462.
Until next time :)
KJ
About the team at Master of Ceremonies Sydney
I'm Scott Phillips, a registered Marriage Celebrant, professional Master of Ceremonies (MC) and dad to two gorgeous girls.
I'm really a dog person, but a 12-year-old cat named Morgan has somehow managed to turn me into one of her minions.
We believe that every event, whether it is a wedding ceremony, wedding reception, a corporate function (even a Christmas party), a charity event, an expo or trade show, will be a Moment of Truth. A moment that will form memories, bonds and goodwill that will carry a lasting impression.
As a Celebrant I believe in creating a magical, memorable ceremony that will be remembered for years to come, and to do that I ensure each ceremony is unique and tailored to the bride and groom, who they are individually and as a couple.
I'm Keira Brown and I'm a writer, cat lover, and new owner of a dog named Bear, who lives up to his name in size and looks, but he's really cuddly.
I used to be completely uninterested in marriage, weddings, relationships, anything to do with love really. Not because I'd had my heart broken, but because to me it just didn't seem that important. Then I met Scott, and my life, my entire world changed. Everything was about weddings, because that's what he does. And gradually, as I fell deeper in love with Scott and started helping him with Master of Ceremonies Sydney, I finally got it. It's not about the marriage, or the reception, decorations or food, or even the ceremony - it's about two people declaring their love for each other before the entire world. An irrevocable promise to always be there for each other.
I quit my day job, and now help Scott run Master of Ceremonies Sydney full time. I get to merge my love of writing stories with my passion for writing an unforgettable ceremony. It's been a hell of a ride. I can't wait to see what happens next!